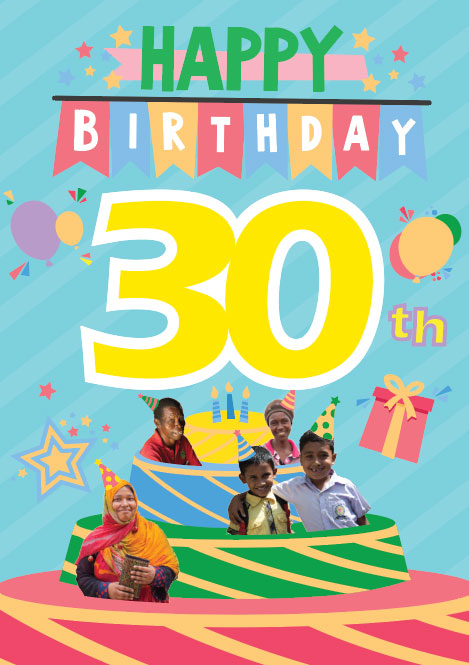 "Beyond Feeding the Poor" is the theme of the CEDAR Fund's 30th anniversary. It reflects CEDAR's work not simply to alleviate the poor's hunger or give them warmth. Our work is to transform the lives of our beneficiaries so that they live out the intrinsic worth and dignity give by our Lord.
As a supporter of CEDAR's ministry, are you considering sending us a blessing on the CEDAR 30th birthday? If yes, we suggest that you transform your blessings into beautiful action by joining our "Beyond Feeding the Poor" donation campaign so that the poor will be blessed as well. Besides, we invite you to write down your blessings on the Birthday Card specially made for the CEDAR's 30th anniversary. We will forward your message to the overseas poor.
Take action now:
// Donation //
Encourage you to donate HK$30 or more to transform the lives of the poor for the better.
// Writing down your blessing //
Write down your encouraging message on our "Beyond Feeding the Poor" Birthday Card. We will forward your message to the poor overseas.
Enroll
Download the Birthday e-card (for individuals/churches/schools) (Chinese only)
Donation Method (Please specify: "Beyond Feeding the Poor" Campaign)
1. Online Donation:
Click here to donate now
2. Cheque: Please make it payable to CEDAR Fund
3. Direct Deposit: HSBC 600-385678-001 or BEA 015-185-68-00931-7 SSA
4. PayMe: Click Here or Scan the below code to donate

5. Faster Payment System (FPS ID: 3354016): Login to your online banking to donate through FPS
Please fill in Donation Form, and send the form, cheque, bank-in slip or screenshot of successful payment along with your name, contact phone number and mailing address to us via mail, email or WhatsApp Mailing Address: CEDAR Fund, G.P.O. Box 3212, Hong Kong Email: sharing@cedarfund.org WhatsApp (for donation matters only): 5160 7549
If the donation exceeds the above mentioned allocation of funds, the excess amount will be transferred to CEDAR's 'Emergency Relief and Disaster Preparedness Fund'. The fund will enable us to respond to immediate needs, and support disaster mitigation in poor nations always being hit by disasters to reduce the amount of devastation.
[1] CEDAR is an approved charitable institution and trust of a public character under section 88 of the Inland Revenue Ordinance. Please visit Inland Revenue Department website for details.
[2] Donations over $100 are tax deductible in Hong Kong with our receipts.

[3] Please DO NOT fax any donation information.